We specialize in large productions – what better than a carnival or circus? We have the entertainers, the food, the games, and the HUGE inflatables to keep the kids (and adults) busy all day! From a carnival themed birthday party to carnival showcase, we are equipped to throw a fantastic smash!
Because the Carnival brings out the child in everyone.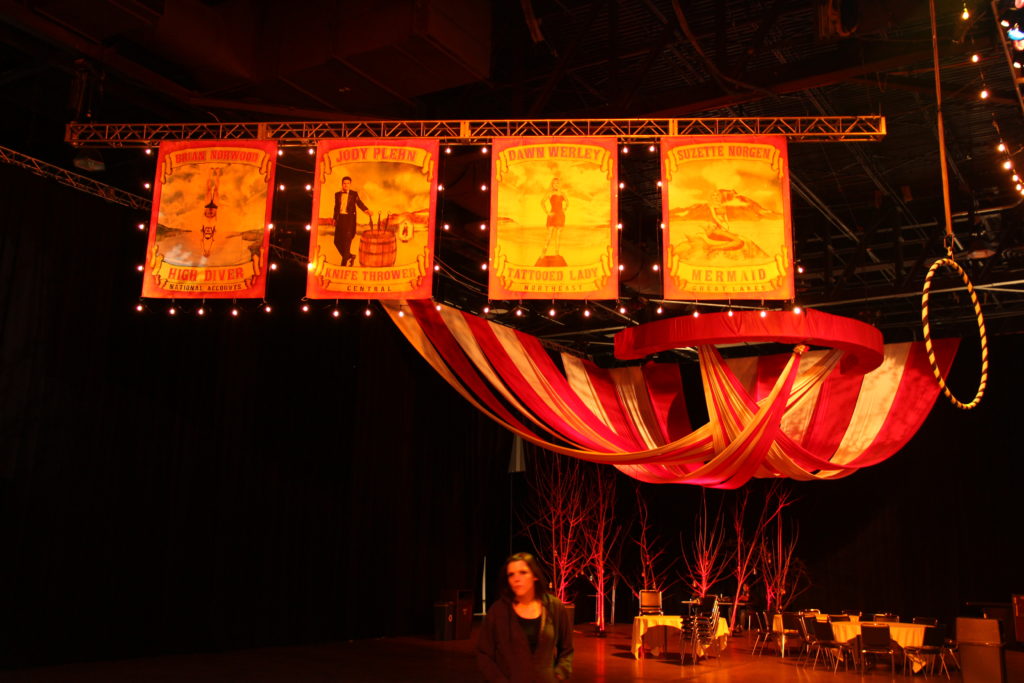 a few carny prop favorites!
You'll know you have arrived at the carnival when you see giant 15' clowns marking the entrance path to the fun! Get ready for yummy carnival concessions, classic games and tons of fun! Our draped entranceway appears as if you are entering under a gigantic tent, and our inflatable arch is fun and exciting!
Guests need somewhere to sit after running through the Fun House, winning prizes at the carnival booths and jumping on the inflatables. Our SEATING arrangements will prove just the perfect fit. From whiskey barrels and bar stools where you can make a pit stop, to picnic tables where you can relax for the long hall, guests will have plenty of options. Simple popcorn boxes with daises, sunflowers or carnations alternated with balloon groupings add the pop of color to make these common tables warm and inviting.
CARNIVAL Games and BOOTHS
Our Carnival booths are 10'x10′ each, all have tented coverings. Each booth is also stocked with these fun games and colorful prizes like stuffed animals and small toys.
Guaranteed to put a smile on any dial!
Our colorful concessions are  just the ticket you need for fun  that flies higher than the tallest fair rides! Perfect buttery popcorn is easy to achieve, or top off your event with some cotton candy or a sno-cone. Paired with some of our giant inflatables, your carnival party will be an event to remember!
Inspired by the traditional travelling funfair with fairground rides, food booths, sideshows, side stalls and games, our carnival decor and vintage carnival trifolds will create that old carny feel.
"Step right up and see the gypsies, the fire eaters and the bearded lady…"
Build bonds and memories between the generations with some carnival games and activities for your guests and family members of all ages. Our games can involve both the adults and the kids for extra merry-making and revelry!
Live entertainers really put you in the carnival excitement! Clowns are well, clowns – funny, entertaining, and perfectly at home at the carnival. Mimes are a walking show – always a challenge to find out what exactly a mime is up to. Stilt walkers can be seen from anywhere as they tower above the crowd.
Guests will want to take home fun memories from their awesome day at the carnival. An interactive  photo booth with immediate print outs or uploads to all social media platforms is just the thing! Choose to include voice guidance, gesture & movement detection, vibrant animations, touch based photo-signing, emoji stamping, interactive contests, social games, colorful photo countdowns and more. Another option is our  large green screens where you can custom choose your background, costume and photos also print out on site!
 CARNIE CUT OUTS
Remember these fun filled, in your face cut outs?  Well we're one of the only places you can still find these memorable fun photo ops!
How much fun is this? Get an adrenaline rush in, or maybe some sumo wrestling? We have a comprehensive range of fun inflatables to get that party bouncing!!