EXPECT SOME FUN IN THE SUN WITH THESE LAWN GAMES!
Lawn Games. Yard Games. Fun outdoor games. The good old days of outdoor play. Experience the benefits of the sun and fresh air while you get your outdoor groove on! As a matter of fact, run, jump, golf, throw or check mate your opponent, giant style.  You will release the happiness hormones that improve everyone's mood.  The fun will boost your immune system. Besides, the aim is to reduce your stress and improve your concentration by immersing yourself and your guests in our outdoor lawn games. It's guaranteed. The outdoors will renew you. The air will awaken you. And above all, the memories stay with you forever!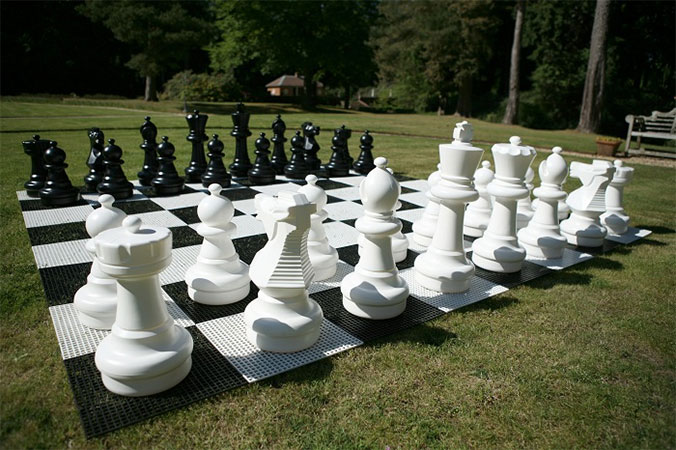 Summer is knocking on the door and what is more perfect than a giant game of chess on the lawn? This one is going to be the check mate of all check mates! See a great move? Look for a better one. That's all that matters on the chess board.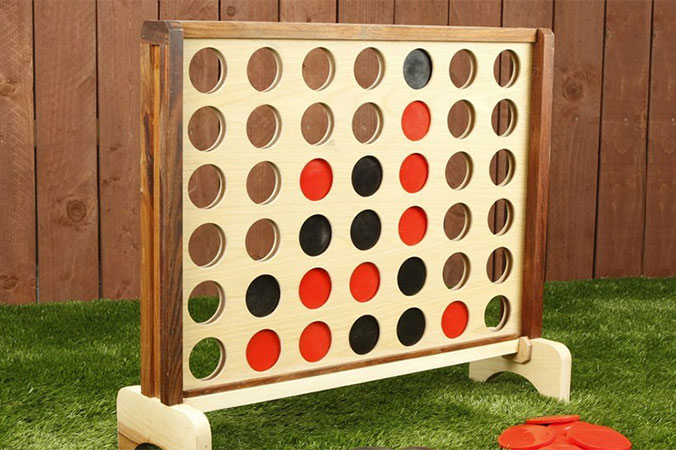 The objective of this game is to be the first to form a horizontal, vertical, or diagonal line of four of one's own discs. Connect Four is a problem solving game. The first player can always win by playing the right moves. Never played? You're in for a treat!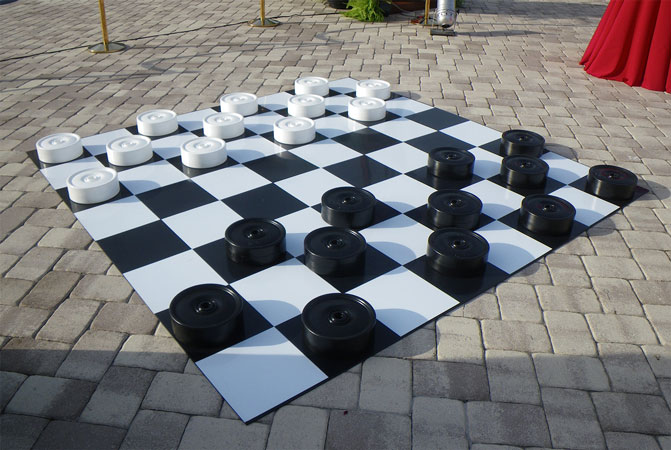 Checkers is a board game played between two players, who alternate in moves. The player who cannot move because he has no pieces, or because all of his pieces are blocked, loses the game. Pick up your checkers and carry them!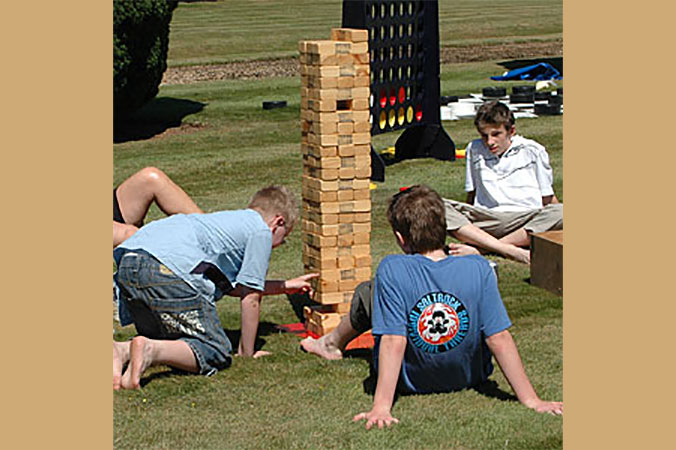 Jenga is a game of mental skill. And patience. Players take turns removing one block at a time from a tower constructed of 54 blocks. Each block removed is then placed on top of the tower, creating a progressively taller and more unstable structure.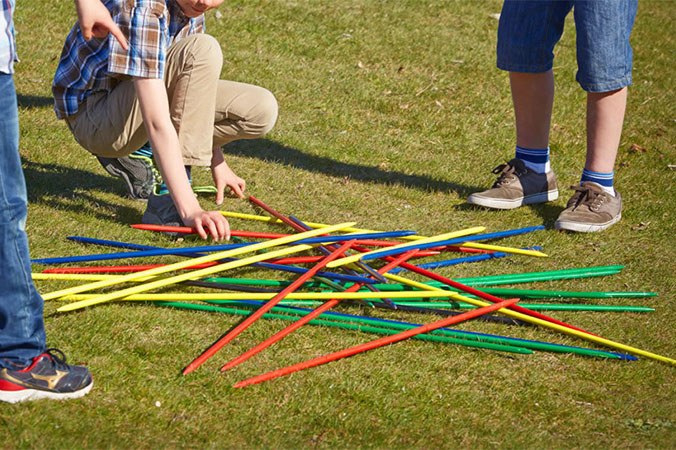 "Five, six, pick up sticks.." This is a game of physical and mental skill in which a bundle of giant "sticks" are dropped as a loose bunch onto a lawn, jumbling into a random pile. Each player in turn tries to remove a stick from the pile without disturbing any of the others. The game is known by several names including jackstraws, spellicans, and spillikins, of all things!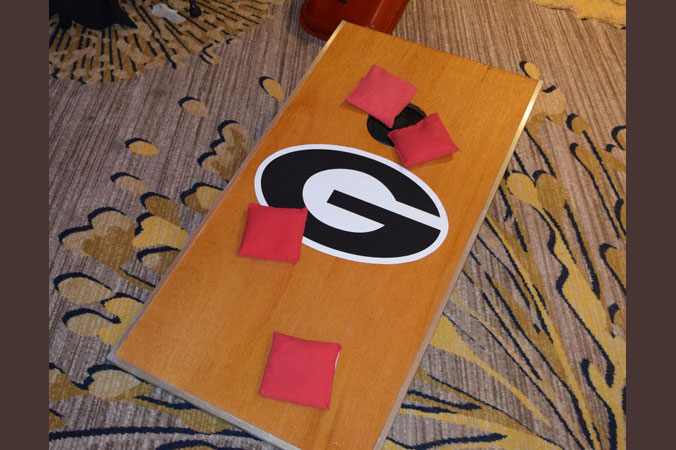 Cornhole is the official summer lawn game. Players take turns throwing bags of corn at a raised platform with a hole in the far end. A bag in the hole scores 3 points, while one on the platform scores 1 point. Play continues until a team or player reaches or exceeds the score of 21. Boards and corn bags can be customized with your company logo for a small fee.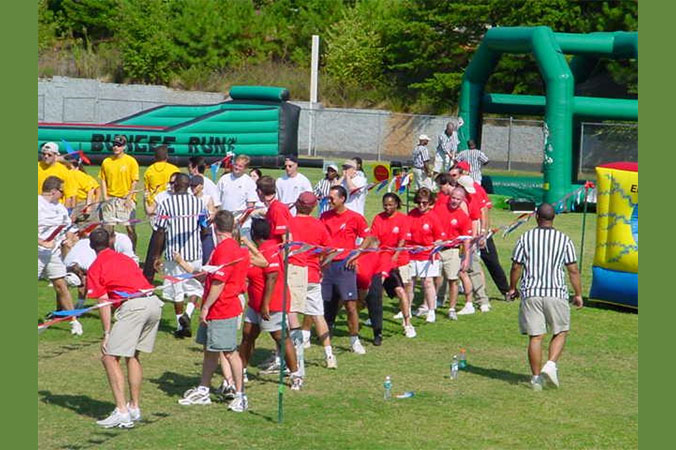 Over, under, over, under… try to pass the ball through the line as quickly as possible! Goal: Be the fastest team to weave the ball over and under each person. Preparation: – Two orange squishy sponge balls – Two buckets of water. The first team that passes the ball back to the first person wins the game. Hilarious fun!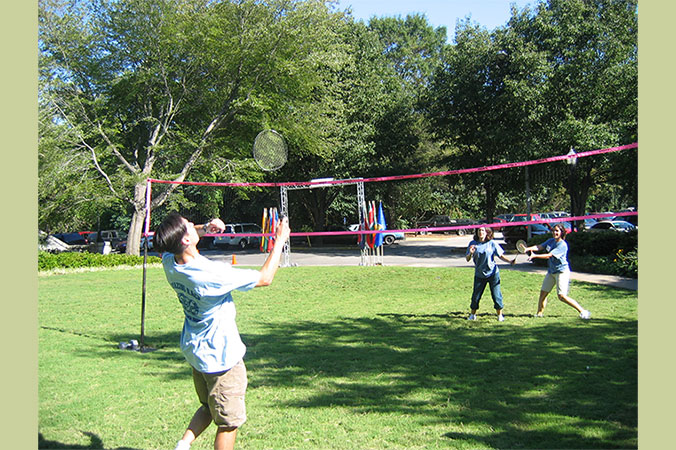 A few simple strokes right? Make sure to always return to "the stance of readiness" after each shot. Get ready to move anywhere any time. Go for the overhead as often as you can. Keep your opponents running around. Have a method to your madness. Have a ton of fun!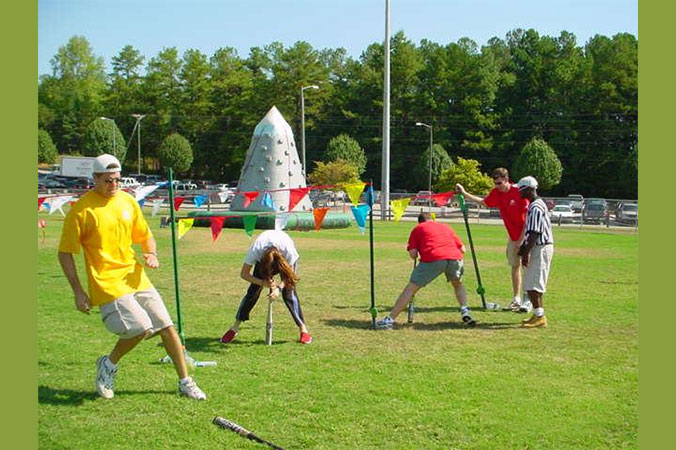 It's really very simple. A baseball bat is placed some distance out in front of each team. Each player must run out to the bat, stand the bat upright on the ground, place their forehead on the bat, and circle the bat ten times, then run back and tag the next person in line. Easy?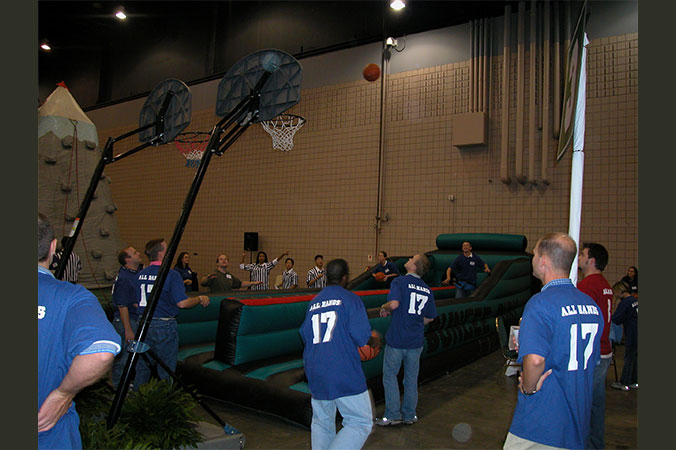 Shoot a free throw from either 1, 2 or 3 position. Thats also how many points you'll get if you pop it! If not, rebound and throw to the next person for their turn. Quick succession is the key because you're being timed. Easy on a lawn, try doing it on an inflatable!!!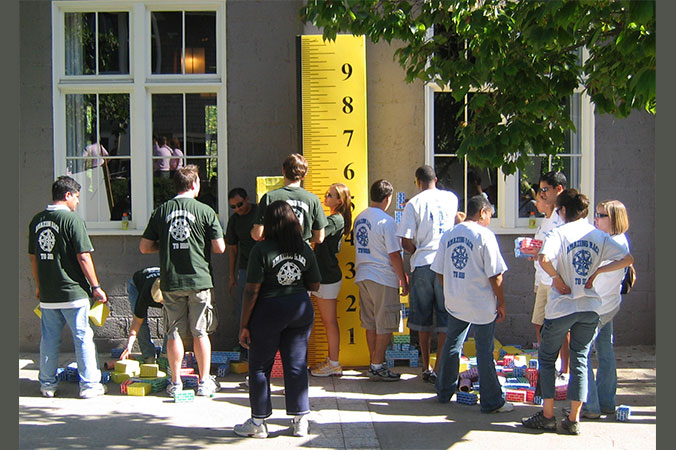 Looks simple enough. Each team is given a time frame and the team with the highest stack wins. Tactical because you are only given a certain amount of large blocks for the base.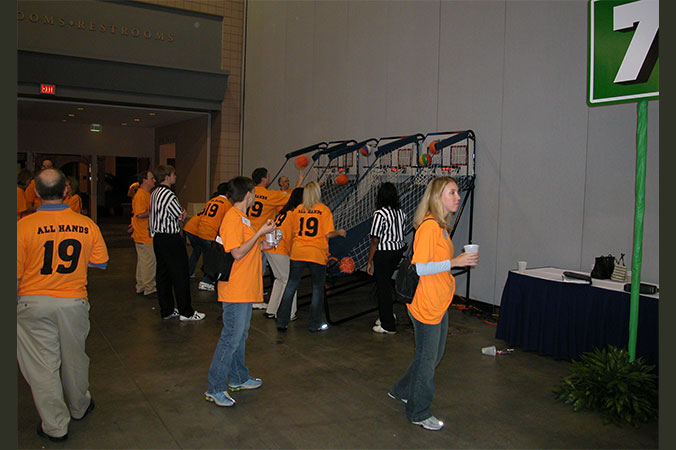 For this game, you've got get a higher score than your opponent. You've also got to have great rhythm, and keep a river of basketballs going or get a backspin off the board. Once you miss one, then it is chaos because it screws up your rhythm. To be a great shooter, you need to shoot and not miss more than one or two maximum.